Eurorack Module
Pre
Low Noise Preamp for Microphones and Pickups
Very low noise

Adjustable input sensitivity

High input impedance (≈ 600kΩ)

Soft clipping behaviour with red indicator LED

Output gain trimmer (max. output signal ca 18Vpp)

Optional +12V power supply for electret microphones
Width: 5 HP

Dimensions: 128,5 mm x 25,2 mm

Depth: 40mm

Supply voltage: ±12V

Current consumption (postive rail, without load): ≈10mA

Available with banana or 3,5mm minijacks
The Pre module allows the embedding of signals from electro dynamic sound sources such as microphones or pickups (e.g. from e-guitars) in modular synthesizer equipment. Its high amplification together with a very low noise floor and high impedance allows the processing of even very low input signals (such as from dynamic microphones) and/or high impedance pickup outputs (e.g. from piezos).
The module is equipped with a 'Sensitivity' knob for adaption to different input levels, coming from different pickups or microphones. A red LED indicates when the level is becoming overdriven, causing a saturated output signal; here the preamp will show soft-clipping behaviour.
On the back of the module there is a trimmer for setting the max. output gain – between 3Vpp and 18Vpp. Further, there is a jumper for optionally powering an electret microphone with +12V supply (which will be provided on the 1/4′ jack middle ring).
A second minijack input is above the main jack, which may replace the the 1/4′ jack input. It can be used to combine the Pre with signal sources from other eurorack modules (e.g. for distortion) and will be switched off when the main input jack is in use.

---
Examples
Simple patches with other (CG Products') modules
1. Pre & XR22VCO FT
The Pre's output is connected to the
XR22VCO's AM input. The oscillator is amplitude-modulating the microphone signal and vice versa (ring modulation with oscillator tone)
Pre In: Microphone with trumpet
XR22 VCO: Different frequency settings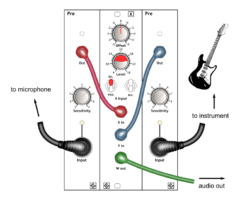 3. 2x Pre & X multiplier
Ringmodulation of 2 acoustic signals (from e.g. 2 different microphones, 1 instrument pickup & 1 microphone etc.).
Pre1 In: Microphone with voice…with harmonica
Pre2 In: E-Guitar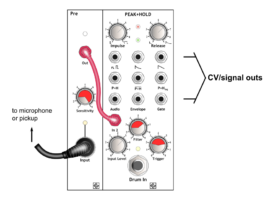 4. Pre & PEAK+HOLD

The PEAK+HOLD's 1/4' jack input is optimized for higher signal levels coming from pickups mounted on a drum, so a preamp is needed if the P+H module shall be sourced from a microphone.
Pre In: Microphone with voice…with bongos/cymbal
PEAK+HOLD CV outs controlling XR22VCO and Delay1022